News
Subscribe to posts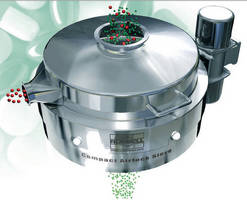 Airlock Screener improves powder containment.
October 16, 2012 - Intended for pharmaceutical industry, Compact Airlock Sieve™ employs validatable pneumatic clamping system that promotes powder containment, product quality, as well as operator health and safety. Oversize contamination is accurately removed by mesh screen fitted to unit, while good product passes through mesh screen and towards next stage of production. Featuring crevice-free, smooth services, screener is fully washable and can be disassembled in seconds without tools. 
Russell Finex
625 Eagleton Downs Dr.
Pineville, NC, 28134
USA
New Russell Airlock Screener Improves Powder Containment


Fine mesh separation and filtration specialists Russell Finex have introduced the new Compact Airlock Sieve(TM) adding a new dimension to screening technology for the Pharmaceutical Industry. The unique design has evolved as a result of close consultation with many of the top pharmaceutical companies around the world.

This new Compact Airlock Sieve is the first real advance in pharmaceutical sieving technology for ten years. The screener features a validatable pneumatic clamping system giving large improvements in powder containment and operator health and safety. With powders safely contained, the vibratory screener accurately removes any contamination and therefore improves product quality. Oversize contamination is accurately removed by the mesh screen fitted to the unit, while the good product passes through the mesh screen and on to the next stage of production.

The unit is clamped together with the revolutionary airlock system.  This pneumatic lock gives an even and high clamping force across all sealing faces and therefore guards against powder leakage more effectively than traditional band clamps or over-center toggle clamps. The cGMP design of the Airlock screener is based on clean lines making sanitation easier and performance greater. Crevice-free, smooth services make the product contact parts very easy to clean and they are fully washable. Clean down times are reduced, as the screener is quick to disassemble in seconds without the need for tools.

Read more: http://news.thomasnet.com/fullstory/Airlock-Screener-improves-powder-containment-623294
Wednesday, August 1, 2012
ACS Valves' new SD Series rotary valves are designed to provide increased bulk material throughput efficiency in feeding and metering applications, when compared to standard 8-vane rotary valves. According to the company, the new valves offer:
A larger pocket area between the vanes of the rotor; enabling greater pocket-fill capacity.
The ability to move over 5 percent more cubic feet/revolution (CFR) of bulk material.
Improved complete release of materials from the rotor pocket.
Superior strength in the composition and solidification of the housing's metallurgy, without dimples, crevices, and pits on the housing's product contact areas and other surfaces (cast in North America).
CNC-machined to precise tolerances, they help eliminate axial shaft movement, seal leakage and shortened bearing life.
A standard 6-vane rotor design, which provides sufficient inlet and outlet sealing, maintains proper pressure differentials upstream and downstream of the SD Series valve, and reduces compressed air requirements.
Availability in cast iron or 304 or 316 stainless steel; four square-flange sizes from 6 inches to 12 inches; and four heights from 10 inches to 18 inches.
Excellent performance in temperature applications up to 250ºF.
Read More: http://www.chem.info/Products/2012/08/Material-Handling-Increasing-Material-Throughput/
Australia's leading dust collection systems specialist, 
Polex Environmental Engineering
 introduces a new range of modular dust collectors designed to achieve significant savings in energy.
Featuring a modular design, the new Polex dust collectors incorporate high efficiency fans to save on energy costs. All units can be fitted with a VSD (variable speed drive controller) featuring an air flow sensor that will communicate with the Polex control system to lower the fan motor's power usage when one or more slide dampers or blast gates are shut off.
For instance, a system with 12 outlets at 12 machines requires a 30 kW motor on the fan to provide adequate suction. If 6 outlets are closed off, the air flow sensor will communicate to the Polex control system to cut power to the motor to run at 50% power, resulting in cost savings over the life of the dust collector.
Key features of Polex's energy saving modular dust collectors:

Rotary airlock valves enable the unit to keep running when the bins are being emptied
Significant savings in labour costs as operations need not be stopped when the collection bins are being emptied
Reverse pulse fully automatic continuous cleaning system ensures the unit is working at or near 100% efficiency all the time
Shaker cleaning system also available
High quality filter mediums and cartridges
Available in a wide range of sizes and configurations with units from 1m² to 60+m² in size
Modular design allows units to be delivered flat packed, saving on transport costs
Can be easily reassembled on site with a minimum of tools or specialised labour
Wear resulting from sliding abrasion and impact, is a constant problem across all quarrying plant involved in feeding, conveying and storage of minerals, semi and finished products. It is not a constant, though, in terms of its effects, occurring to varying degrees in different parts of the plant. In a hopper, for example, the sloping section at the discharge chute takes both impact and sliding abrasion, leading to higher wear rates than those experienced on the vertical hopper sides. However, the number of solutions actually used in quarrying to combat wear does not reflect this discrepancy in wear rates. There are a number of reasons for this. First, cost: traditional wear protection methods are initially cheaper. Second: best practice recommendations from industry associations. Third: existing contractual requirements for maintenance that mean a quarry is locked in to particular protection systems.
"Added to the above is the issue of what level of wear protection is provided when the plant is new," said John Connolly of wear protection specialist, Kingfisher Industrial. "This often determines what the plant protection policy will be going forward. There is a dichotomy that exists between the needs of the OEM and those of quarry maintenance managers and engineers. The OEM has to achieve lowest installed cost for new equipment, in order to comply with project costs, while the maintenance manager is looking for minimised whole life costs from improved equipment reliability and longer operating life. Unfortunately, the result of this conflict of demands is usually that the wear protection system employed is often barely adequate, and will require replacing, sometimes within months."
Traditionally, metallic materials such as QT, and manganese plate and castings have been used as wear protection solutions in the various quarrying operations, where the product is handled and crushed down to a minus-sized aggregate. As further processing is undertaken for sand and small aggregate, polymer type materials such as rubber and polyurethane operating in a hydraulic state have been used with success. As with all solutions to problems, careful consideration has to be given in identifying what unique issues associated with grades and mineral types are prevalent, as a 'one size fits all' approach very rarely succeeds.
In the area of feeders, steel backed rubber lining plates have provided a traditional solution to wear from sliding abrasion. However, where the material is particularly hard (granite, for example) feed size is large and throughput high, these liners struggle to provide the operating life required for optimum plant efficiency. The solution to this problem is increasingly provided by ceramic liners, which are easy to cut and shape to fit, and provide far superior resistance to impact induced abrasion and sliding friction from crushed rock and stone. However, this is not exclusive, as Kingfisher has also had outstanding success with its metallic (K-CLAD or K-HARD) and polymer (K-TEX) materials.
"Dependent on the size of the product being feed or conveyed we would use either metallic and rubber linings for handling above 150mm product size; and ceramic and polymer for handling 150mm and below product size, processing rock, stone, gravel, grit and sand," said John Connolly. "Also the height of loading needs to be factored into the decision making process, as the longer the product is in free fall the greater the velocity, hence the greater the impact.
It is important for continuity of operation that metallic linings offer the benefits of being easy to install, initially, and simple to replace. Where the requirement is not only for excellent resistance to impact abrasion and corrosion, but also noise abatement, then we would offer a rubber (polymer) lining system."
In the conveying area, protection against wear can be complemented by increased flow efficiency as a result of using ceramic lining solutions. On conveyor chute systems the extreme hardness characteristics of ceramic liners prevents wear from compromising the integrity of the system, whilst the liner surface becomes polished due to counteracting the constant abrasion. This results in a very low coefficient of friction, which improves efficiency and eliminates continual maintenance and unplanned cleaning operations from this part of the process. The combination of various grades of ceramic materials can also take into account the differing levels of wear at various points in the conveying system. The linings are supplied in various thicknesses, guaranteeing long term protection (10-12 years-plus) against perforation of the fabrication, and against any damaging discharges.
"In addition to ceramics, we have also achieved particular success in conveyor quarrying applications with our K-PLAS low friction polymer lining system," said John Connolly. "Lightweight, quick and uncomplicated to install, the material provides a sacrificial liner that guards against wear, at the same time allowing total discharge of product, enabling operators to achieve maximum efficiency of discharge versus load. In the right application, a 10mm to 20mm thick lining offers comparable performance to various grades of stainless and abrasion resistant steel plate, and is well suited to materials such as chalk, limestone and gypsum."
Ceramic lining solutions are generally the optimum for lining storage bins (or hoppers) against wear. However, they are generally part of a two-stage wear protection system; this the result of the different levels of wear experienced on the vertical and sloping sides of the bins.
One combination that is proving itself over long operating periods is the use of traditional abrasion resistant quench and tempered wear plate installed on the vertical walls, fused cast basalt lining systems installed in the non impact areas of the top sloping walls of the hoppers, and high alumina ceramic tiles installed on the high impact and main wear areas of the discharge chute section. The fused basalt lining is designed for conveying and storage systems that require high resistance to friction induced abrasion. The material has an extremely hard and smooth surface, which offers the added advantage of improving material flow.
In the sloping discharge section of the bins, the problem is both sliding friction and impact abrasion, which calls for high alumina ceramic liners. These are easy to shape and fit, and have a smooth low-friction surface that progressively polishes during use, preventing material build-up and improving material flow.
The value of ceramic solutions is evidenced by an ongoing application at a major quarry in the east of England. Five years ago, Kingfisher provided its K-ALOX ceramic solution to the discharge sections of a number of storage bins at the quarry.
The K-ALOX tiles replaced steel liners that were not lasting six-months, due to high levels of impact abrasion and sliding friction from handling granite. The installation was recently inspected as part of Kingfisher's ten-year warranty, and was found to have negligible levels of wear, despite having handled over 15million tonnes of granite over the 5-year period.
More information can be found here: 
http://www.pandct.com/media/shownews.asp?ID=33202